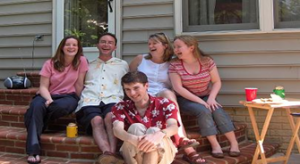 Lors de votre stage aux USA vous serez logé dans une famille américaine bénévole, c'est à dire qu'elle n'est pas rémunérée pour cet accueil et souhaite vous recevoir pour vous faire partager son mode de vire et quotidien. Elle a été sélectionnée pour sa motivation et disponibilité.
Ce sont des familles très chaleureuses et vous serez considéré comme un membre de la famille à part entière
Ce type de logement vous permet de vivre les USA de l'intérieur et de progresser rapidement en anglais en vivant au quotidien avec cette famille.
Retrouvez ci-dessous les commentaires d'une famille américaine "host family" qui a accueilli Jean, un de nos étudiants :
Waving good-bye at O'Hare International Airport to my new 18-year-old French son was the hardest thing I had to do as a host family mom.
Jean was part of our family from the very start. When I read his bio, he wrote that humor and joking were important to him—that was when I knew he was the student for us! He went on a mission trip with my children to Appalachia for a week to repair homes for some of our nation's poorest families. It was a life-changing event for everyone involved, and the kids began a life-long bond that strengthened every day. Jean was here.
My 15-year-old son finally had a guy around the house, joking that they were "brothers from another mother." Every day their heads would be drawn together, thinking up ways to amuse themselves and the rest of us. My 16-year-old daughter was every bit Jean's younger sister—complete with the over-protective and mentoring role he took on towards her.
Jean was thankful and generous throughout the entire 5-week stay. We stayed at a cabin along the Tennessee River Gorge. We kayaked, boated, and visited the Chattanooga Aquarium. We went on a visit to family in rural Tennessee—riding horses, traveling in Uncle Steve's big truck, rope swinging at the creek, riding 4-wheelers, and experiencing his first Wal-Mart. We went up north (Michigan) and rode skidoo's  and hung out with more family. We went to the beaches of Lake Michigan, museums, dining, Cubs games… and more! We really had a blast for summer vacation!
Now we keep in contact via Skype. Paris and our city are thousands of miles apart, however the bond we formed in five weeks spans those miles with ease. Our French son/brother is always in our hearts and minds and we would be happy to once again welcome this wonderful young man into our home in the future!